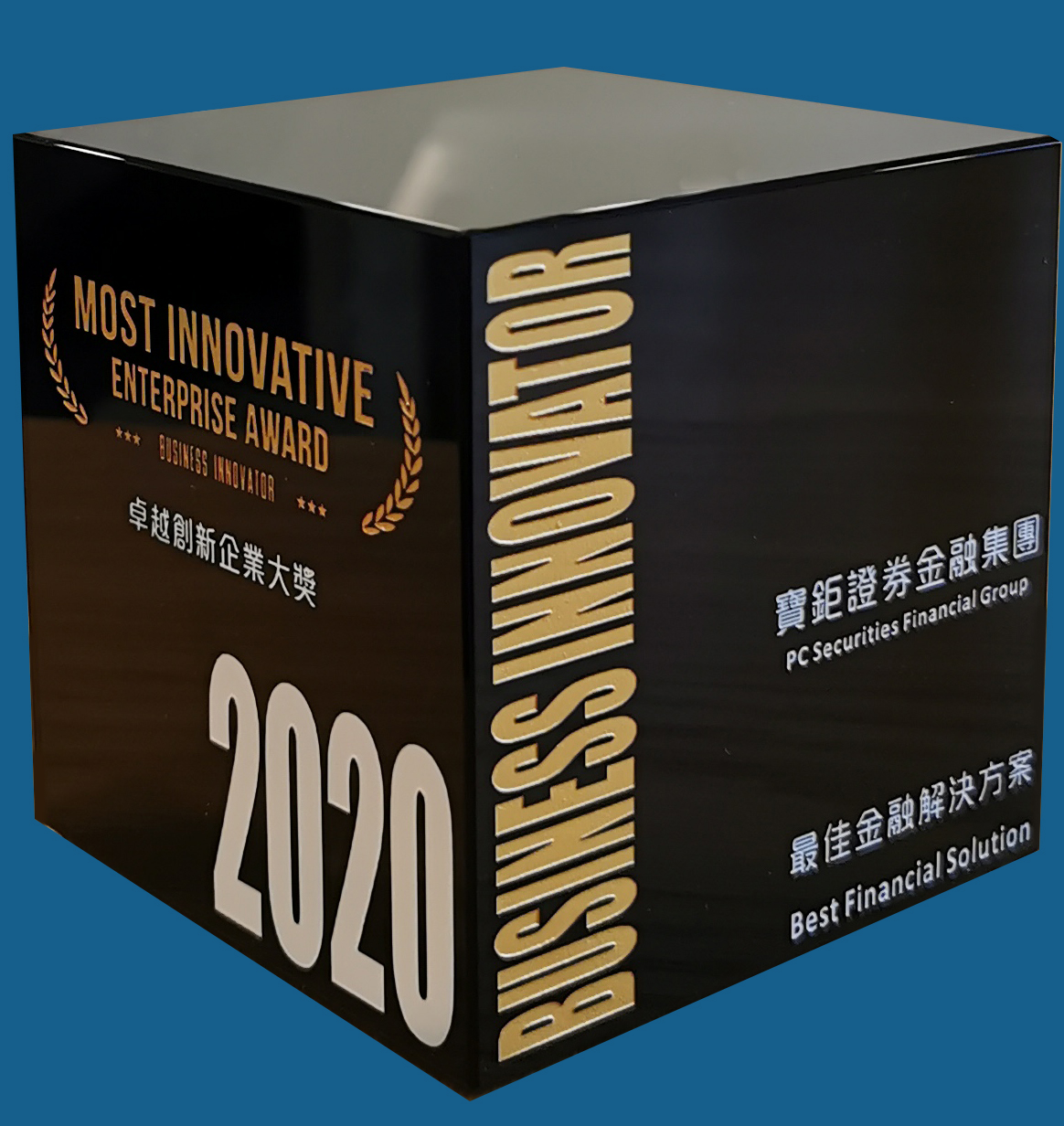 PCSFG won the "best financial solution group" outstanding innovative enterprise award for 2020, sponsored by business innovator, an Asian business creative content platform. The 2020 outstanding innovative enterprise award aims to further affirm and identify outstanding enterprises with new ideas and insights in business operations through the theme of "outstanding innovation and extraordinary achievements", to improve operational efficiency, service quality and overall competitiveness in the industry. On the other hand, the award scheme serves as a continuous platform to encourage innovative industry leaders to actively share their ideas and expertise, so as to build a professional award that is widely appreciated by the business community and internationally recognized in Hong Kong.
As a pioneer of licensed securities companies and international financial institutions deep rooted in Hong Kong, PCSFG has always been committed to developing diversified and differentiated financial business, delivering the best customers' experience in financial services. Driven by the pursuit of innovation, we have customized the most suitable high-quality financial solutions for our customers through the integration of the group's global financial resources and combination advantages of local and international talents, creating a forward-looking core value of financial management.
PCSFG is committed to building a one-stop global investment and trading platform to provide a variety of investment services. Customers can trade through our online and mobile trading platform, regardless of their region and seize any investment opportunities shall it arises. Since its establishment, the PCSFG has won numerous awards, and are well recognized by customers, partners and media globally. These achievements enable us to pursue further breakthroughs in innovation. We will strive to deliver more added value services for our high-net-worth customers globally, and providing financial services beyond private banking.
******************************
About PCSFG:
PC Securities Financial Group is founded in 2001 and has presence in Hong Kong, Singapore, Shanghai, Taiwan and Indonesia. We strive to provide our customers with professional, reliable and diversified financial products and services, including asset management, wealth management, securities, insurance, off-shore family trust, global properties, immigration and business consulting, etc. operating under relevant regulatory authorities. The Group has launched the "Heritage Account" this year to provide our high-net-worth customers with superior and innovative investment services.
PCSFG's members include:
• PC Financial (SG) Pte. Ltd.
• PC iFAST Holding (SG) Pte. Ltd.
• PC Securities Limited
• PC Asset Management Limited
• Paochu Investment Advisory Limited
• PC International (HK) Limited
• Paochu Wealth Management Limited
• Paochu Management Services Limited
• Bao Yuan Finance Limited
• Xiang Chu Management Consulting (SH) Limited
• Tse Chu Management Consultants Limited
PCSFG has received numerous awards over the years. This recognition of our work is propelling us towards further excellence and professionalism. Awards received in 2018: "Hong Kong Most Outstanding Enterprise Awards 2018", "Caring Company 2018", etc.